HEKS'NKAAS® in a tube – easy and delicious
HEKS'NKAAS® is delicious, on bread, with drinks, on snack vegetables. New is HEKS'NKAAS® in a tube, making it even easier to use. Today I'm sharing some tasty tips where you can use this cream cheese.
HEKS'NKAAS® in a tube
I love HEKS'NKAAS®. I often eat Heks'n® quark spread on bread or Heks'n® cream twist on a baguette, but now they are coming out with something new: HEKS'NKAAS® in a tube. Super easy to use and super tasty.
Delicious with a drink
The period we are in makes us feel like having a glass of wine with a tasty snack more often on Sunday afternoons. We often play a board game and then put a drinks board on the table. I make the boys happy with potato chips, but for us I like to unpack a bit and how nice it is to be able to try something new every now and then, like this HEKS'NKAAS® in a tube.
A tube in the fridge
The advantage of HEKS'NKAAS® in a tube is that it is easy to use, you never have too much because it comes out of the tube in doses and is therefore easy to fill up with. You can also very well empty the tube. Put it upside down in the fridge and you'll see how much comes out.
Even when you think it is almost finished. The taste of the HEKS'NKAAS® in this tube is the familiar taste of cream cheese and fresh herbs.
Delicious with chips
This tube of HEKS'NKAAS® is made for bugles. It can't be helped. It tastes deliciously fresh with a little topping of this cheese.
Because of that spicy flavor, it gives the chips just a little extra's.
But this HEKS'NKAAS® in a tube can go with many other snacks
Now this HEKS'NKAAS® in a tube can be combined with many other appetizers, think:
Wraps with HEKS'NKAAS®, ham and cucumber, or how about salmon!
Delicious on a piece of cucumber or cherry tomato
As a filling in puffs
Delicious in a roll of ham
On an egg
But HEKS'NKAAS® in a tube can also be used for lunch
I often eat a low-carb diet and especially at lunch I like to eat lots of vegetables, such as a salad with lettuce, tomato, cucumber, bacon and HEKS'NKAAS®. Normally I make a sauce or take the honey mustard dressing, but with HEKS'NKAAS® in a tune this combination also turned out very tasty.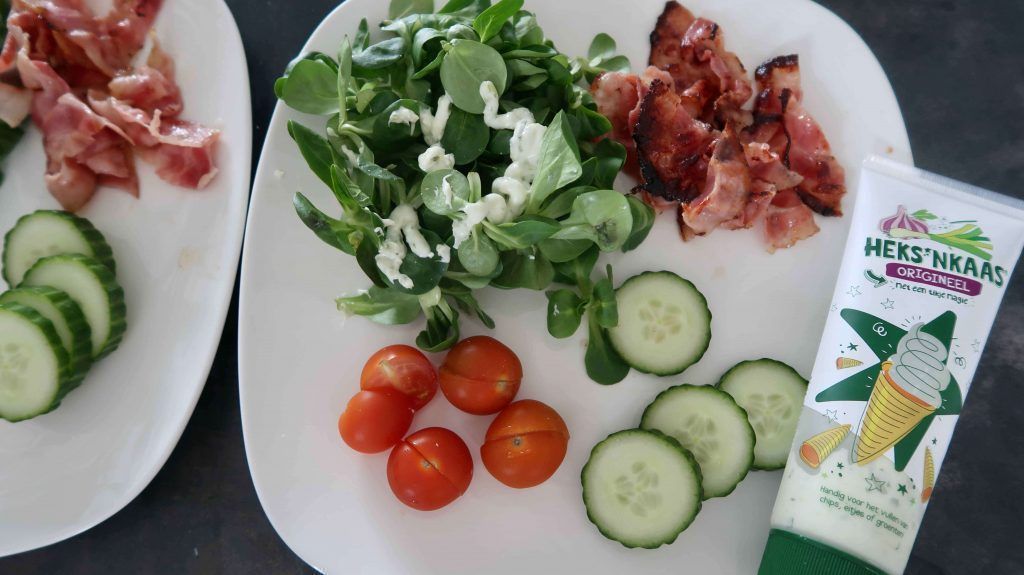 Enough choice
So there is more than enough choice to make delicious appetizers with HEKS'NKAAS® in a tube. Be surprised and taste this cream cheese with a little magic. And now if you have any more tasty tips, be sure to let us know in a comment below.
On the site of HEKS'NKAAS® you will find even more delicious recipes . Or take a look at my Pinterest board where I keep lots of recipes.