Mommy Blog Swap – Holidays
A while ago I signed up for a Mommy Blog Swap, the holiday edition. So the past few weeks, besides the Saint shopping, were all about shopping and crafting for this nice swap. Last week I sent my package and also received a package in. Wonder what a Mommy Blog Swap is all about and what I got?
Read on quickly.
Mommy Blog Swap
A what? A Mommy Blog Swap is a swap among mom's who blog. Swap is English for swap, so we all swapped a cute 'Christmas kit'.
Since you obviously don't get one as a blogger. You could sign up with a short description of yourself or what you do/don't like. You gave me your address and of course your website.
A very sweet mom blogger then drew the lots and coordinated this Mommy Blog Swap. We were all told to send our package between December 5 and 10. So last week, all the mom bloggers who participated were at the front door every day ogling for the mailman. Would he already have a package? I didn't have to wait long.
Tuesday my nice package arrived. Exciting!
What did I get?
I received my Mommy Blog Swap after I came home from a morning in Blijdorp. The exhausted toddler was still sleeping because he fell asleep in the car. Daughter was also quiet so I had some time to open the box at my leisure.
When I opened it I became happy, what cozy colors.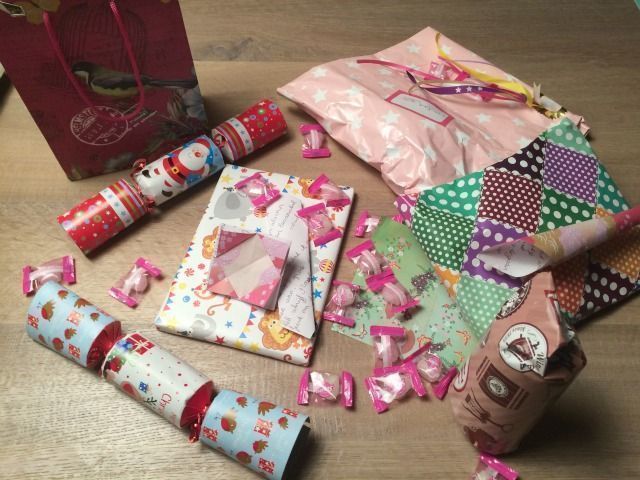 I took it all out and there were pink candies in it as well. I put those away in a hurry because otherwise the little man will eat them all.
The gifts were all accompanied by bills with beautiful texts that suit a mom well. Very nice to read. But what was in the gifts?? First I found a culinary gift.
I'm not very culinary minded myself (read; what the farmer doesn't know he doesn't eat) but the husband loves it. So mister is happy with my gifts too. It also contained a nice booklet to write down your dreams. You have already read that I dream very vividly so that comes in handy.
There was also a spider-head-scratch-massage-thing inside. Whahaha, no idea what you call something like that but I do know it as a relaxation device. Too funny. Since I really like crafts and creative things, it included a package to make a garland out of fabric. Very nice .To get some perspective and relax there was a DVD in it, 'What to expect when you're expecting'.
My pregnancy was only a short time ago so the movie will have many recognizable hilarious moments.
In short, all nice presents and sweet bills.
Who can I thank?
It was a bit of a mystery who I should thank. I really couldn't find it, haha. Luckily I was helped out quickly. Marjolein from family Olivette has carefully put together this Mommy Blog Swap for me. Thank You!
I immediately browsed and read on your blog.
What did I send myself?
Now you are of course curious what I have sent. You get a little sneak peek at this one. Of course I won't tell more because the recipient has to do that themselves.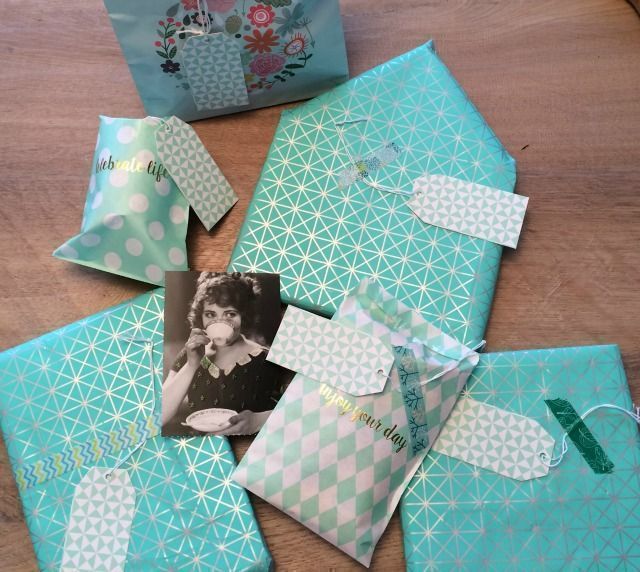 Have you ever participated in a swap? Definitely a must.
♥ ♥ ♥ ♥ Fulltime Mama uses affiliate links. This means that if you click on one of the links, we may get a small commission on it. It costs you nothing extra, but it does give us something in return. With these proceeds we can maintain this website. Also sometimes we get paid for an article or we get a product in exchange for a blog post.
Our opinion remains unchanged and honest because of this. For more information you can read the disclaimer. ♥ ♥ ♥