Café-restaurant De Eendracht – now also in Hilversum and Blaricum
Do you like it that the terraces and restaurants are open again? This week we went out to dinner for the first time again, at De Eendracht in Hilversum. This restaurant has been added to the Eendracht family along with De Eendracht in Blaricum.
The kids can come too
Wonderful that we can visit restaurants again for our daily coffee, weekly lunch date or drinks with friends. And do you live in (the area of) 't Gooi is extra nice that you can now also eat and drink at two new hotspots in 't Gooi. Café – Restaurant De Eendracht, a café and restaurant in one, which works a lot with local products, is coming to Hilversum and Blaricum.
Thanks to the many child-friendly features the ideal place to take your kids. And that we tried!
Hotspots in Hilversum and Blaricum
Café – Restaurant De Jonge Haan in Hilversum and drinking and dining establishment Tafelberg in Blaricum have been added to The Eendracht family as of June 1. Café – Restaurant De Eendracht has been a household name for years in Abcoude, Maarssen and Weesp. That is now joined by these Gooi locations.
The two locations both have a long history and have proven themselves over the years, but it's time for something new. These well-respected catering establishments are not only getting a new concept with the name change, but also a new menu, for example.
They keep their identity
It's not that everything will be different: for example, the Hilversum and Blaricum establishments will keep their spacious terraces and the wood oven in the Blaricum establishment, will not go away either. Lodewijk Keulen, co-owner of Het Horeca Kantoor: "De Eendracht is a proven concept, which fits well with the wishes of the current guests, locations and environment. We are doing this now because the current situation has given us time to bring forward this name change."
Two beautiful new businesses in 't Gooi
With De Eendracht, the Gooi public can count on two beautiful new businesses that are even more in line with their wishes: a meeting place for everyone, where fresh products from local suppliers are used."The eggs, cheeses and meat come from the Lindenhoff farm in Baambrugge, they serve special beer from Oedipus in Amsterdam and the fries are from Friethoes in Haarlem.
Family hotspot par excellence
These new locations in Blaricum and Hilversum are perfect for free summer afternoons with family or friends. You can eat and drink on the terrace. And lingering until dinner is no problem: the menu is even ideal for children.
You order a pizza or snack of the day and everyone is happy. That you don't always want fancy and chic with children, but you do want good food, is something they understand very well at De Eendracht. At De Eendracht Blaricum you can even enjoy your rosé or white beer while the kids play on the heath, right in front of the terrace.
The Eendracht in Hilversum
Last Saturday we had dinner at De Eendracht in Hilversum. It was the first time we were out and about again and apart from there being fewer tables on the terrace and you could disinfect your hands if desired, it felt like carefree eating. And that felt nice!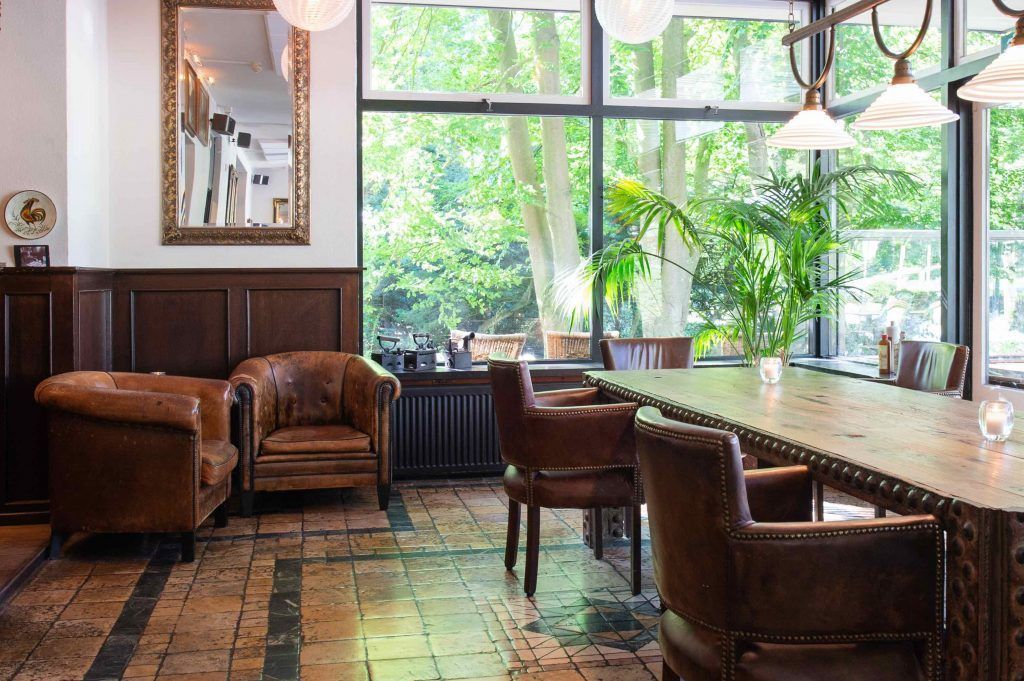 A varied menu
The menu card is varied there is plenty of choice in meat, fish or vegetarian, the dishes were beautifully served, the service is friendly and the children are also well thought of.
Well informed and nice suggestions
The food was delicious, the wine tasty and the service came with fine suggestions. And then the food, there was plenty of choice, but not too much, which I personally like, because otherwise I get lost in all the choices.
The food was delicious!
I myself went for a shrimp salad as a starter, which was heavenly, a goat's cheese salad with red leaves that was deliciously fresh with pieces of grapefruit and orange sauce as a main course and a delicious Italian coffee for dessert. I also ate along with the cheeseboard my husband ordered. This was so good! Highly recommended!
The men all ate meat and were very pleased with the portions.
My husband took Carpaccio beforehand with a fried Tournedos afterwards, the eldest took a Eendracht burger and the youngest a Eendracht kidsburger. The fries were deliciously crispy and there were plenty of vegetables as well.
De Eendracht, a must
De Eendracht is a place where you can come and have a cup of coffee, a business lunch or just drop in at the end of the afternoon to have a drink with friends or a nice dinner. Actually it's all there. The location in Hilversum is easily accessible and you can park behind the restaurant.
Of course this restaurant is just one in the large Duckracht family, this one is definitely recommended!