Coleman MacKenzie 6 Blackout Bedroom: a real family tent
Looking for a new tent? A family tent for at least 4 people? And you also can't see through the many tents which is now a scare tent for your family?
We are very pleased with the Coleman MacKenzie 6 Blackout Bedroom.
You can read our experiences here.
Coleman MacKenzie 6 Blackout Bedroom
Developments in tents have not stood still, the Coleman MacKenzie 6 Blackout Bedroom is an example of that. Tents are getting bigger, sturdier, easier to pitch and more resistant to all weather conditions. The Coleman MacKenzie 6 Blackout Bedroom is a real family tent.
We did find out this summer.
Buying a new tent
Last year during the summer vacations we stayed in Switzerland. Our tent had been used a lot and was beginning to show more and more wear, not great when camping in the alps. Now this tent was not to blame.
It had survived many years, weather and wind and just needed replacing. We camp a lot and know what we want and don't want in a tent. Last year the tent broke down and we decided to buy a new one at the end of August.
We were looking for a family tent, where we would especially have enough space in it in bad weather.
This time we also wanted to finally get rid of those leaks's and wetness in the tent that we have often had in recent years with heavy rainfall.
A family tent
We ordered the Coleman MacKenzie 6 Blackout Bedroom at the end of summer vacation last year. We then set it up once in the field in front of our house. The setup went fine and although I was shocked at how big the tent was – you want a family tent or not, we were very satisfied.
This year we could finally actually try it out. We went to the Swiss Bernese Oberland for three weeks. Because we had already set up the tent last year, we knew exactly how to do it.
This went very well.
And although the tent is large, it was not that big when I saw the other tents on the campsite.
The advantages
The advantage of the Coleman MacKenzie 6 Blackout Bedroom is that it is a real family tent. There are three inner tents that can accommodate six people. The special blackout inner tents are very dark and do not bother you 's early morning light.
Also for young children this is nice sleeping, when they 're going to bed at night.
The sleeping compartments are really dark.
Sturdy and reliable
The steel frame of this family tent provides a lot of stability even in bad weather. There is enough room for all your stuff. But most ideally, this family tent is a cockpit tent.
It is a one-piece tent, so water does not run into the tent when it rains. The large interior is also ideal. We had rain several times 'in the evening and 'during the night. In the evenings we could sit inside very well.
We had bought an extra rug for in the tent, so we could put our camping chairs in there without any problems. The floor can not be damaged. And there was enough room for all the chairs and a table.
Still looking for camping chairs, look here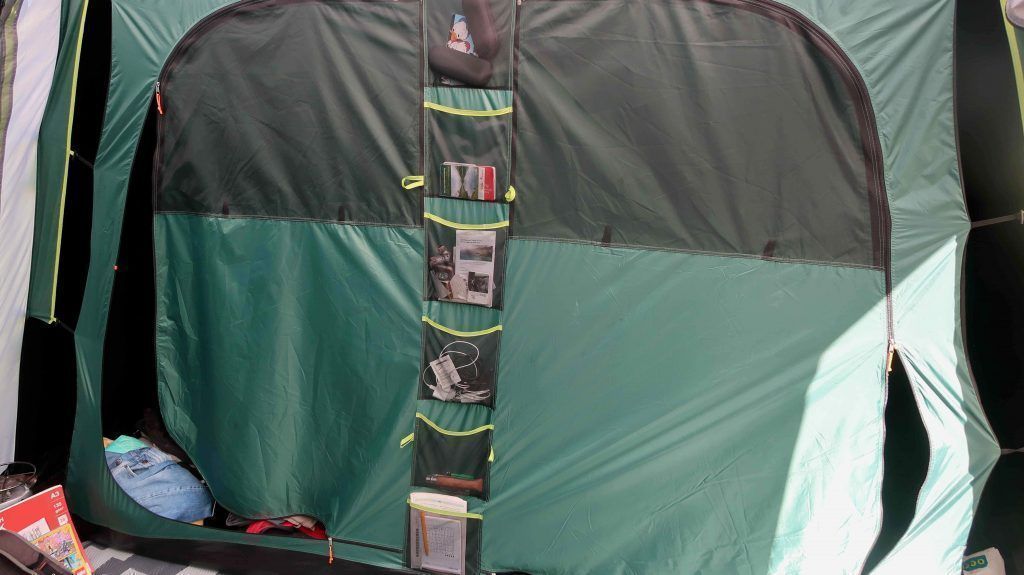 Putting up and taking down
When setting up and taking down this family tent, it is good to know a few things. You can set up the tent on your own if you want, but it is easier to do it in pairs. The tent poles have a color, the color corensponde with the color label at the tunnel on the tent. With the blue poles, make sure you put the ones with the holes in the front so that the poles for the awning will fit in here later.
One of the inner tents can also be left out.
Then you have even more space in the tent itself.
When taking down one of the doors of the tent, it is important to leave the zipper open. If you don't, there will be a lot of air in the tent. If you fold the tent towards the zipper, this air will dissipate and the tent will fit nicely into the bag.
Camping as it should be
I don't need a lot of luxury when I go camping, but I do want to be able to stand upright and sit inside dry in the rain. It showed that this tent is a real family tent. Because of the space everyone had their own place, so we could get through a rainy day just fine.
We were able to store all our stuff easily and the sturdy tubes make the tent super taut and you don't have to worry about damaging the poles in windy conditions.
The fact that the tent is one unit all around is really perfect. Even with heavy rain at night we did not have to worry about water getting into the tent. In the sun you can turn the door into an awning.
Picking a tent is very personal
Now choosing a tent is very personal, just like camping itself. Do you bring your own tent or do you prefer to go in a safari tent? Are you more into glamping or is a caravan where you want to spend your vacation.
Do not buy a tent overnight. Write down for yourself what is important to you and what you definitely do or do not want in your new tent.
A good tent increases the vacation fun tremendously.