The best autumn pins
Currently, we are still enjoying a wonderful Indian summer, but we can't deny it anyway. Autumn is just around the corner. Personally I am never a fan of the gray, wet weather but of course we make the best of it. Autumn gives us a lot of materials for activities and crafts. To prepare you a bit, here are the best autumn pins from my pinterest board. Including a DIY we made ourselves.
Autumn tree crafts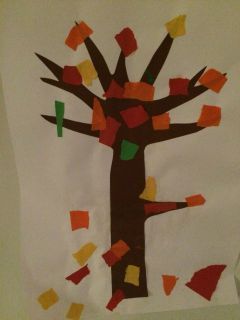 A really bad photo of an autumn tree I made with the little man last year. I almost forgot about it but saw it on my own pinterest board. I cut a big tree out of brown cardboard and together with the little guy we tore a lot of autumn leaves. Tearing is a very good activity for children's fine motor skills. This is not easy. Then the toddler could mess around with glue and give all the leaves a place. Et voila, an autumn tree. By the way, this is also very fun to do with all seasons. A spring tree with green leaves etc..
Owls from cupcake molds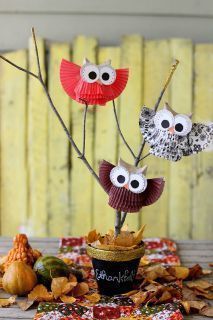 How cute are these little owls? They really belong to autumn? Just made from paper cupcake molds. I love them and will definitely try to make them sometime.
If you click on the picture you will link to the original idea.
Pumpkins with a light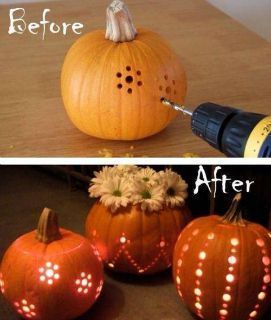 Last year we had a super harvest. We planted little plants that grew into huge gourds. Super fun. On the outside table we made an autumn scene with our own gourds. This year, however, I haven't thought of sowing them at all, so I will have to buy them. Pumpkins and gourds, they are great to decorate with and to me they really belong to autumn. At this pin they drilled holes in pumpkins and then put lights in them. Look how cozy it looks. These we remember!
Hedgehog made from a pine cone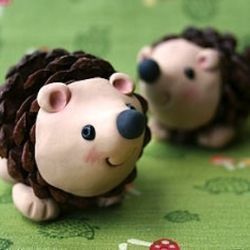 How simple can it be? We all know the dolls made of chestnuts and skewers. These cute little hedgehogs are just made from a little self-drying clay and a pine cone. Too nice anyway?
We have secretly started collecting them already. Here and there we pick up some pine cones, acorns and (unripe) chestnuts. When the autumn weather really strikes we are ready to tinker. But for now? First enjoy the nice weather!
Do you already follow Bblogt on pinterest? For the best pins click here.
♥ ♥ ♥ ♥ Fulltime Mama uses affiliate links. This means that if you click on one of the links, we may get a small commission on it. It costs you nothing extra, but it does give us something in return. With these proceeds we can maintain this website. Also sometimes we get paid for an article or we get a product in exchange for a blog post. Our opinion remains unchanged and honest because of this. For more information please read the disclaimer. ♥ ♥ ♥