Let children eat more vegetables with Spoony in a fun way
Let children eat enough vegetables? That is not that easy for many parents. Unhealthy snacks, candy and snacks naturally go in easily. How can your children eat more vegetables?
Spoony comes with the solution.
Eating vegetables will be a party
Spoony makes eating vegetables a party! In a playful way, children with Spoony go on a vegetable discovery tour. According to the Guidelines of the Nutrition Center, a child of four years has to eat around 100 grams of vegetables per day. An eight -year -old child even 150 grams. In practice, no less than 65% does not make this.
Although variation in vegetables is very important for the development of the taste buds and getting into important building materials, many children do not get any further than snack tomatoes and cucumbers.
Veggies on a mission
Phaedra People, themselves mother of three daughters, started her food-startup Spoony three years ago with a social mission: to let children eat more vegetables with pleasure. Together with a test panel of 150 children and 20 families – she developed various tasty products, full of vegetables and a good dose of fun. Due to the cheerful packaging, the figure Spoony and eating games, eating vegetables literally and figuratively becomes child's play.
After testing about 10 times, children often learn to appreciate a vegetable taste. Spoony helps to pull children over that threshold and to make something fun and positive about vegetables.
Vegetables with ease
The Spoony range has a number of ready-made products, such as the games soup, with a board game with dice on the inside of the package. Children can do the game while eating and then, for example, be instructed how much snack soup. With one portion of this soup, your child is assured of the daily portion of vegetables. The soup is of course 100% pure, with less salt and without added sugars. Even more convenience?
Then there is the slurp soup. This soup is in a cheerful bag that is handy to warm up in microwave or hot water. It can be done in the sports bag or the lunch box and children love it! Also thought of snacks.
Snekkies, made from crispy beet and carrot waffles (40% vegetables) with reduced salt and fat. And for the sacrament is and pasta. But not just pasta, games pasta, a 100% red lentil paste with bingo game.
If that's not a party!
Homemade food is always tastier
It is of course also very good if children learn to cook themselves or if they help with cooking. For this there are the do-it-yourself packages: these are cheerful boxes with ingredients, a childish simple recipe card and accompanying game, with which children can make a tasty vegetable snack themselves. This way they can discover in the kitchen how fun and delicious homemade food tastes.
Passion for healthy eating
I recently met Phaedra during an influencer event and she told here full of passion about Spoony. It was interesting to listen but also very nice to be allowed to taste. We were allowed to taste a black bean brownie and carrot cottage cheese balls.
And nice that it was. You get more vegetables unnoticed in this way. It is of course not that we only want children to eat vegetables in a fun way, but because of Spoony they learn that eating vegetables is tasty and they get to know the flavors.
I found this very interesting, especially because IKZ LEF also eats a lot of vegetables, sins I eat healthy with fewer carbohydrates.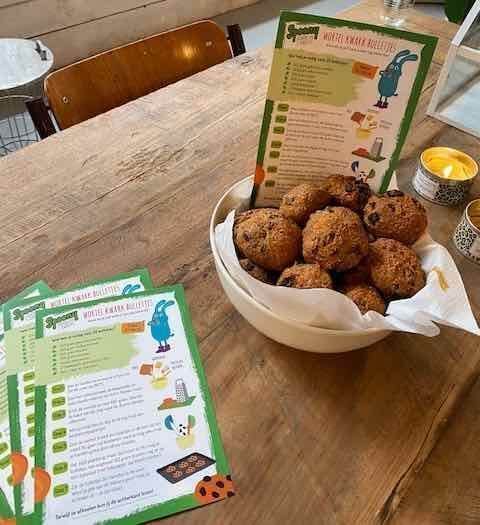 Spoony
Spoony develops products and concepts to make children eat vegetables with pleasure. In addition to the eating games, the company offers workshops and have packages to let children discover, cook and taste themselves. In the games, plenty of attention is paid to nutritional education, so that children come into contact with this important subject in a cheerful and positive way.
All products can be ordered on www.spoony.NL, at various online specialty stores (O.a. https: // www.biological metoko.NL/) And this year a national retail chain will start. In addition, Spoony is used in full at out -of -school care locations.
Even if your children already eat vegetables well
If your children already eat well vegetables, then Spoony can also be easy, just think of training or swimming lessons that are often during dinner time. Often you are inclined to give children for that or afterwards a quick sandwich. If you give them a slurp soup, they immediately have their vegetables.
Curious about the produces and prices, then definitely take a look at the site.