Mommy Me-time Kit 'My Summer'– surprise pack for moms
The Mommy Me-Time Kit is a surprise pack for mothers. A package with fine items to create a moment for yourself at home. Content allows you to take time for yourself with attention.
Now there is a special 'My summer' edition, maybe this is something for you too!
Taking care of yourself
Right around Mother's Day I entered a contest on Instagram and won a Mommy Me-Time Kit. This alone was a surprise, but when I received the kit at home a few days later, the surprise was even greater. It was super fun to unwrap because the gifts were all wrapped one by one. It was like Christmas for me!
The contents were also a big surprise and seemed to be made just for me. Because how nice it is to spoil yourself once in a while.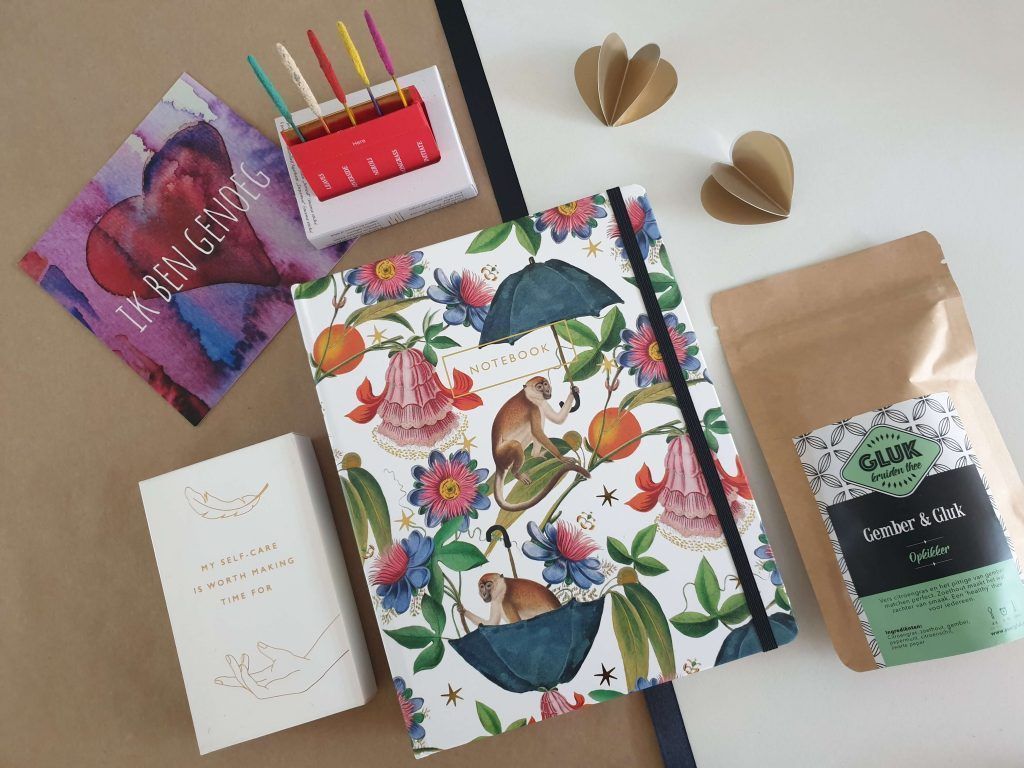 Contents edition 2 Rise &Shine
Mommy Me-time kit
Now, after all those weeks at home, the boys are going back to school every day starting next week. That will be weird after all those weeks of home schooling. But also nice.
For them, but also for me. Because no matter how good it went, just the two of us at home a little me-time, I long for that again. Do you have that too, then the 'My Summer' Mommy Me-time kit from Time for Mommy might be a very nice and surprising gift for yourself.
Attention for yourself
Because it's almost summer! A season we often look forward to long in advance. This year, summer will look a little different for many of us. Vacations that are modified or even cancelled.
It is, now more than ever, up to ourselves to magnify that which deserves attention and make it your summer nonetheless.
What exactly is the Mommy Me-time Kit?
The Mommy Me-time Kit from Time for Mommy is a surprise package for mothers with nice items to create a moment for yourself at home. With the contents you can take time for yourself with attention.
Unique products from small entrepreneurs
If you like surprises and unwrapping – and if you could use a moment of (pampering) for yourself – you should definitely order the Mommy Me-time Kit. In the beautiful kit you will find beautiful products chosen with love and care. Products from small bubbly and enthusiastic entrepreneurs are chosen wherever possible.
And that makes the Mommy Me-time Kit especially fun.
My summer, the new theme
The new theme is delightfully summery. A lot has been determined for us recently in the fight against the virus. What is allowed and especially what is not allowed. This summer, despite an easing, won't be much different.
It's up to us to magnify that which deserves attention and make it your summer, despite perhaps changing or non-existing vacations.
A summer package for you
'My Summer' is a summer package that you will enjoy both 'evening in front of the tent at your vacation address as well as at home on the couch. The kit includes products so coordinated that you can make it your own mommy me-time. So this edition includes a fun DIY, a summer (non-alcoholic) drink and some more fine relaxing items.
Sales Information
The Mommy Me-time Kit is a limited edition product sold quarterly through a pre-order system. My Summer can be ordered from June 1 to June 8, 2020 for €49.95. All gifts are wrapped separately, so that unwrapping is one big party.
content edition 1
A live kit support
New this third edition is the possibility to take Live Kit Support with your kit for €9,95. The live kit support will be given in a private Facebook group. During 3 weeks you will work with the contents of the kit, but also topics such as relaxing together with your child and taking time for yourself even though everyone is at home.
Fine tips and motivation so to really make it your summer.
You can also order a year's subscription to the kit. Besides all the beauty of a loose kit, a subscription also offers its own perks such as:
discount or free services and products at selected partners
free participation in the live kit support.
The Mama Me-kit a pampering moment for all mothers
A loving family life, work, hobbies and friends cause 'la mamma' to give herself a little away. The Mommy Me-time Kit from Time for Mommy changes that. With this stylish kit full of beautiful products mothers can finally take that (pampering) moment for themselves.
View and order the Mommy Me-time Kit from Time for Mommy here.