Carnival: Crafting with cardboard, garlands and more
Crafts With children is always fun, but especially when you have a theme to craft. And with carnival coming up, it is of course fun to get started with this. Even though we don't celebrate carnival here, I like to decorate my house in a theme.
I love dressing up
I love dressing up, maybe I'm more of a Halloween type than carnival, but that's also because I haven't celebrated carnival in years. When I was young, we used to celebrate it at school, but not anymore. I did go and watch the parade in our village every year. Halloween on the other hand, I always loved it.
I loved celebrating in an Irish pub in Amsterdam.
I even went to San Francisco once, where one of the grandest Halloween parades was held.
Crafts for carnival
Anyway, it is February so carnival is coming up again. Crafts are always fun, but for carnival they are even more so. Carnival is merriment, fun and color. Last year I made carnival masks.
Super easy and so much fun to make with the kids.
This time I went for a window garland and a fun craft for on the wall. The idea to do crafts came on Wednesday afternoon and I did not have many different colors of cardboard at home. This didn't spoil the fun, because we were able to have fun anyway.
Window garlands
Here in the village we don't really do carnival, but that doesn't mean we can't do crafts and make the house cheerful. Together with the boys I made a cardboard window garland. You can also make these from fabric, if you have leftover fabric at home.
What you need
5 pages'of cardboard
glue
scissors
piece of string or ribbon
Cut a flag template, lay it on the cardboard and cut out five flags. cut out the letters ALAAF and paste them on the flags. Fold the top and glue it to the wire. Hang the flag on the window with two adhesive tapes and there's your quick happy window garland.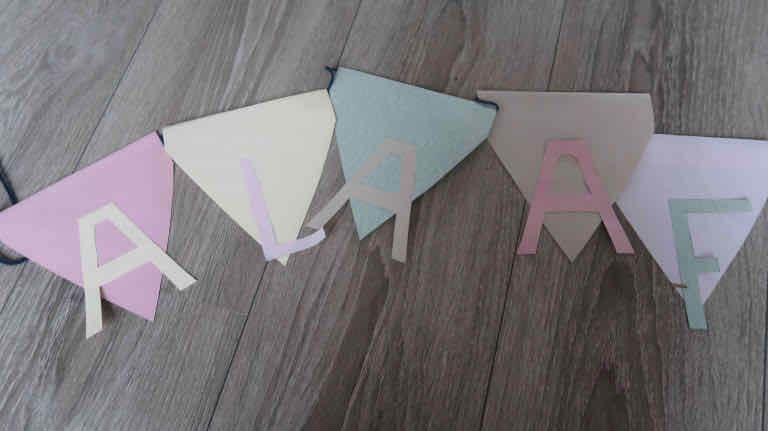 For on the wall
'May we tinker some more?', the boys asked. I still had plenty of cardboard so we searched on Pinterest and came across so many fun ones. We saw a fun craft to brighten up the wall:
What you need:
black cardboard
colored cardboard
wire
Washitape or tape
Cut a hat and mask from black cardboard. Hang 5 strings on this. Cut 6 squares out of cardboard and glue them (I did this with a piece of washi tape) to the wire. Super easy but super fun to hang up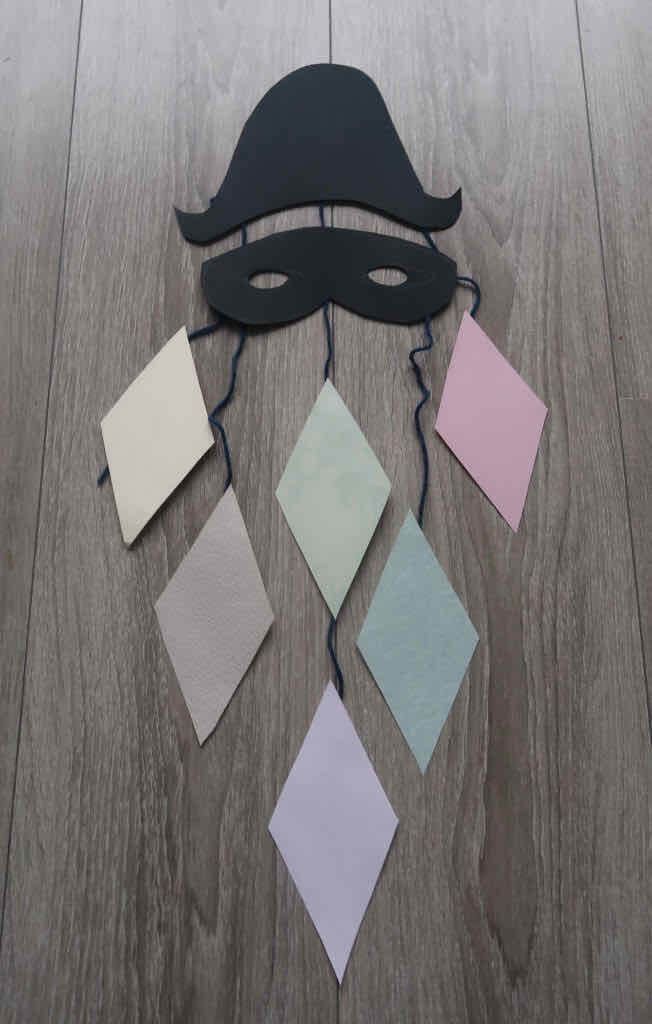 Crea-cross
I wrote this article because I am co-hosting Crea Cross today. Crea Cross is a weekly link party with challenges that you can creatively fill in entirely according to your own ideas. Ilse from kreanimo has been the driving force behind this link party for years and now does it together with Melanie and Natasha.
Be sure to check out Kreanimo, Bmellow and mamaduizendpoot for their carnival items. Do you have any creative article about carnival?
Link this one then. You can also join us on Instagram, using the hashtags #creacross #CC19challenge and #CC19challengecarnival.